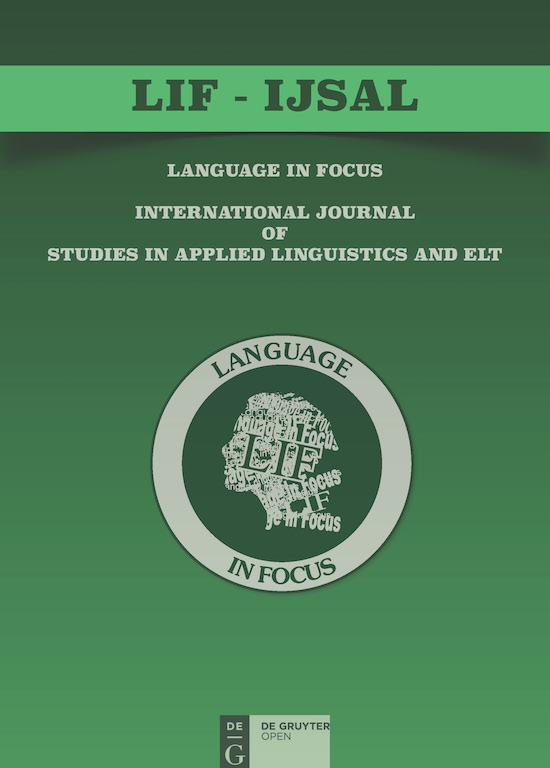 Language in Focus 
International Journal of Studies In Applied Linguistics and ELT
---
Language in Focus International Journal of Studies in Applied Linguistics and ELT (LIF Language in Focus) published by De Gruyter is a journal in which high quality articles and book reviews written by native and non-native English speaking researchers from the field of Applied Linguistics will be published.
The journal's scope is to inform and stimulate discussions relevant to Applied Linguistics, which is a field of academic enquiry that deals with the theoretical and empirical investigation of real issues in which language is in focus. These issues range from aspects of linguistics, first or second language acquisition, literacy, language disorders, foreign language learning / teaching, bilingual education/CLIL, multilingualism over interactional issues of interpersonal and intercultural communication to language variation, linguistic discrimination, language policy etc.
The journal, which will be published online twice a year, is designed to appeal to anyone with a serious interest in the above field including academics / researchers, PhD students, consultants, teachers, etc. giving them the chance to publish their work.
All our conference participants will be given the priority to publish their articles in the journal.
---
Editor-in-Chief
 Cem Can, Cukurova University, Turkey
Deputy/ Managing Editor
Abdurrahman Kilimci, Cukurova University, Turkey
Katarzyna Papaja, State University of Applied Sciences in Konin, Poland
---
Editors
Cem Can, Cukurova University, Turkey
Abdurrahman Kilimci, Cukurova University, Turkey
Katarzyna Papaja, University of Silesia, Poland
---
Editorial Advisory Board
Dr. Taghreed M. Al-Saraj, University of California, Berkeley, USA
Prof.Dr. Ayşe Akyel, Yeditepe University, Turkey
✝Prof. Dr. Janusz Arabski, University of Silesia, Poland
Dr. Jakub Bielak, Adam Mickiewicz University, Kalisz, Poland
Assoc.Prof.Dr. Türkay Bulut, İstanbul Aydın Üniversity, Turkey
Dr. Marek Derenowski, Adam Mickiewicz University, Poland
Prof. Dr. Susan Gass, Michigan State University, U.S.A
Prof. Dr. Jan Majer, University of Łódź, Poland
Dr. Anne McCabe, University of St. Louis campus Madrid, Spain
Prof. Dr. Sarah Mercer, University of Graz, Austria
Prof.Dr. İsmail Hakkı Mirici, Hacettepe University, Turkey
Prof.Dr. Zuhal Okan, Çukurova University, Turkey
Prof. Dr. Olivier Mentz, University of Education, Freiburg, Germany
Prof. Dr. Anna Michońska-Stadnik, University of Wrocław, Poland
Dr. Tom Morton, Universidad Autónoma de Madrid, Spain
Dr. Anna Mystkowska-Wiertelak, Adam Mickiewicz University, Kalisz, Poland
Prof. Dr. Mirosław Pawlak, The State School of Higher Professional Education in Konin, Poland
Dr. Arkadiusz Rojczyk, University of Silesia, Poland
Emeritus Prof.Dr. Ayhan Sezer, Mersin University, Turkey
Prof. Dr. Hatice Sofu, Çukurova University, Turkey
Dr. Artur Świątek, The Pedagogical University of Cracow, Poland
Prof. Dr. Birsen Tütüniş, İstanbul Aydın University, Turkey
Language Editors
Andrew Kirby
Jason Murray
Jason Rende
---
Technical Editors
Fatih Ünal Bozdağ, Cukurova University, Turkey
---
Contact
cemcan@cu.edu.tr
kasiapapaja@interia.pl
akilimci@cu.edu.tr